---
"Creating Meaningful architecture & healthier buildings"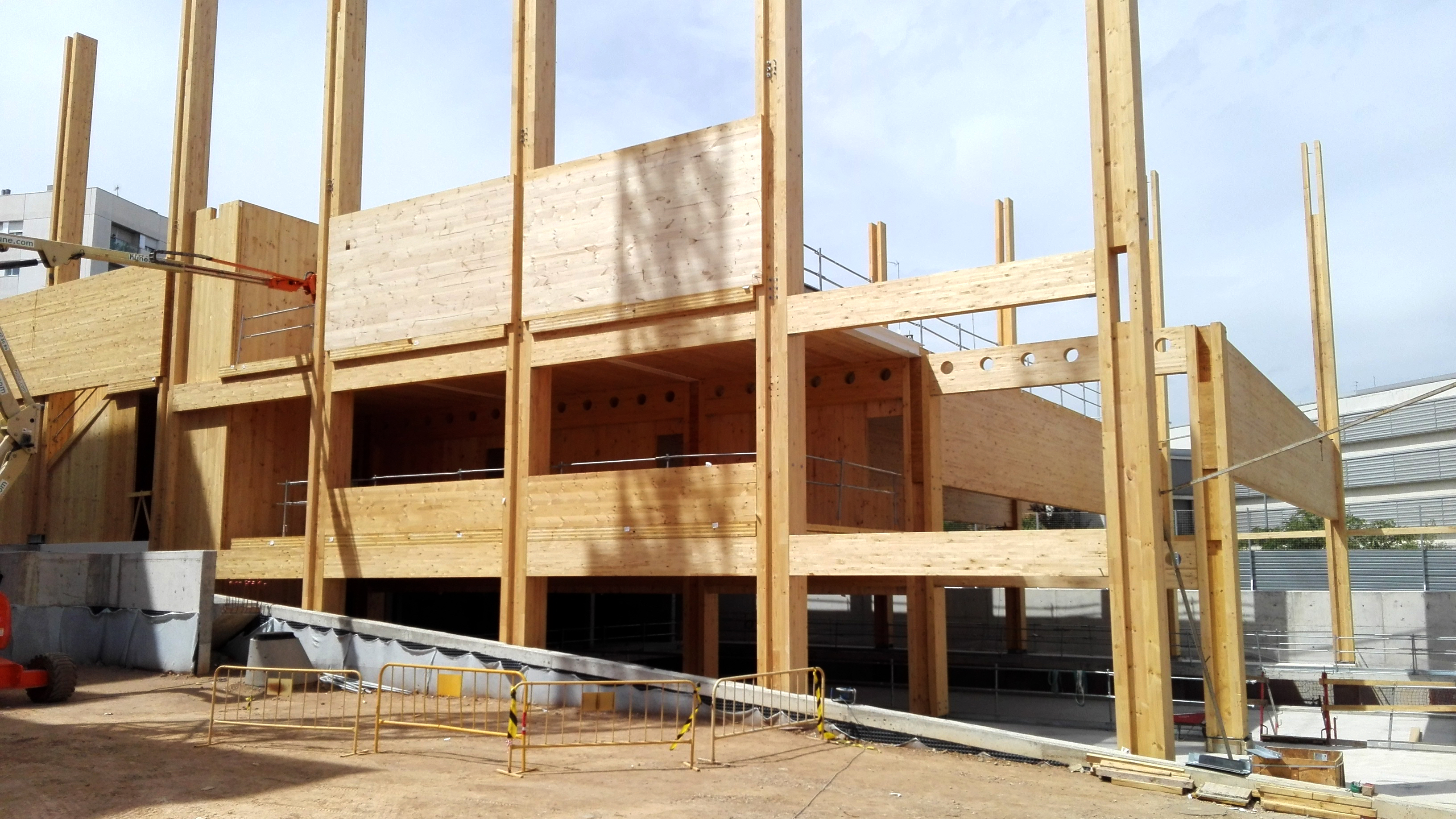 ---
| Mies van der Rohe Award 2022 Nominee, Turó de la Peira Sports Center |


Very happy to announce that the Turó de la Peira Sports Center has been nominated for the The European Union Prize for Contemporary Architecture – Mies van der Rohe Award 2022.

Muy contentos que el El Polideportivo Turó de la Peira ha sido nominado al Premio de Arquitectura Contemporánea de la Unión Europea – Premio Mies van der Rohe 2022
---
| Songdo Library proposal, South Korea |


A CULTURAL CATALYZER
TRANSPARENCY, SURPRISE, INTERACTIONS, FLEXIBILITY AND NATURE

The new Library Building emerges from the will to connect citizens with citizens (social interaction), with knowledge, technology & nature, all within a cultural & flexible approach. Conceived as a recognizable compact transparent and permeable volume surrounded by gardens and a sunken Piazza, the new building will act as a container or catalyzer of interior and exterior activities, able to change at any time its internal configuration. Following the ancient Hanok (한옥) material tradition, we propose
prefabricated Library, made out of mass timber, having in mind a more ecological new era of architecture.
---
| Project publication - Spain Yearbook 2020, Arquitectura Viva - AV Monographs |

Turo de la Peira Sports center and urban plan is part of Spain Yearbook 2020, AV Monographs, featuring 24 relevant projects of the last 12 months.


---
| We believe in using natural materials combined with prefabrication as a way forward for our cities |

Turo de la Peira Sports facility wooden structure progress images.
Completed: 2018
Barcelona
Barce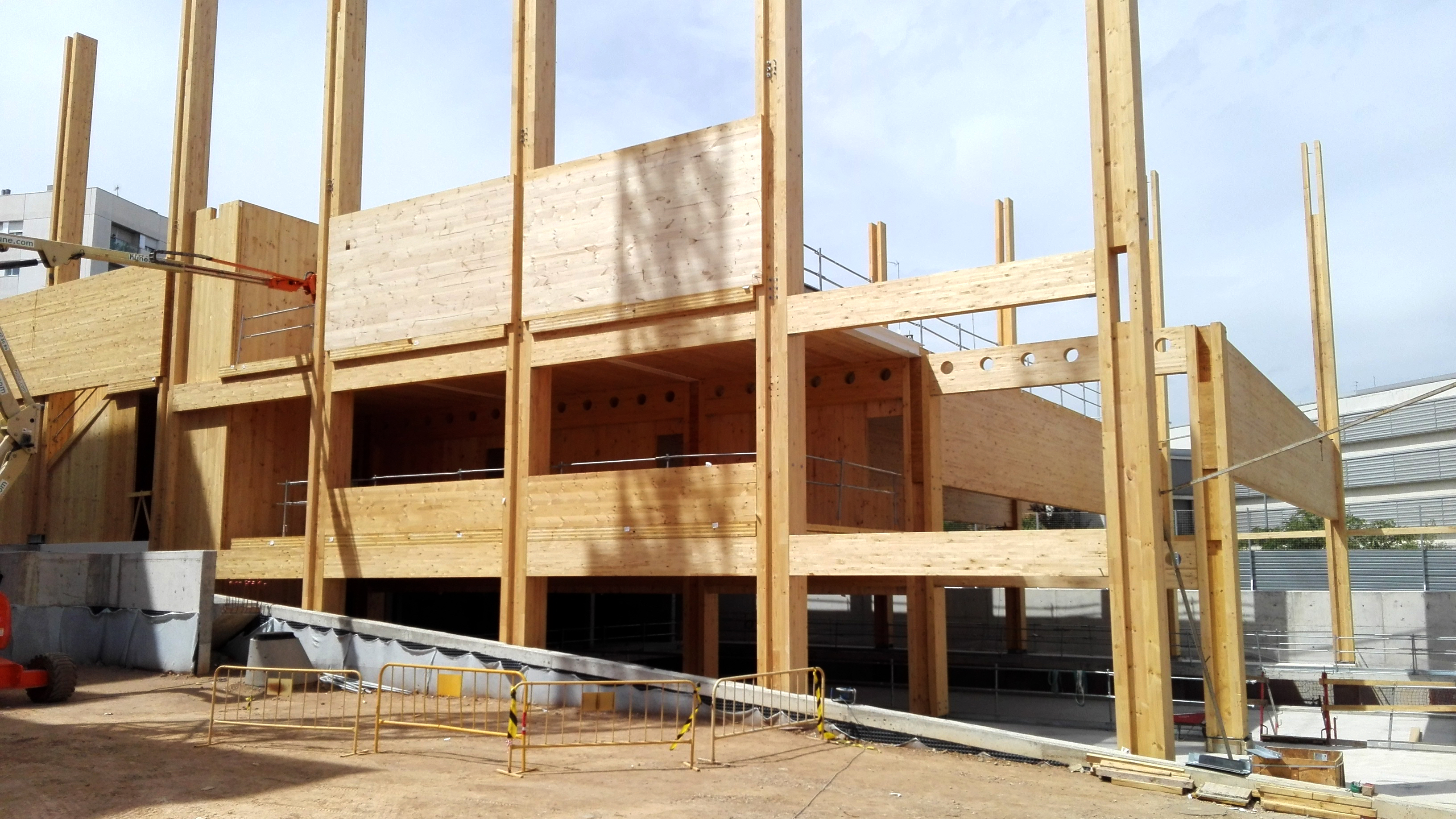 | CEM Turó de la Peira |
Client:
Institut Barcelona Esports IBE , BIMSA
Ajuntament de Barcelona.
Location:
Carrer Sant Iscle 50-54, Nou Barris, Barcelona.
1st Prize competition , 2014
Status: Built (2018)
Area:
4 430 m2 (Building)
+
3 952 m2 (Plaza- new garden)
co-architect: A. Noguera
Project collaborators:
Technical Architect: Dídac Dalmau.
Manel Fernández: structure
Xavier Saltó-Caba: MEP & sustainability
Anna Zahonero: landscape
Energiehaus & Progetic: energy & sustainability, simulations.
Susaeta:Lighting
Quantity surveyor:Ardèvol Consultors associats, Salvador Segura
Photo credits: Aleix Gonzalez, Javier Fdz.
Located at Turo de la Peira, one of the lowest income neighborhoods of Barcelona, the project consist of a urban regeneration which introduces a new compact sports facility building made out of a woodem structure and reintroduces nature into the previously degradated interior courtyard, creating a new garden that contributes to the city environmental quality and serves as a support for biodiversity.
The project outcome has been a shift from a grey & concrete-based environment to a welcoming place surrounded by nature.
A new place of social relation, as a filter of the commercial activity of the surroundings, structured in different zones; spaces for the elderly, children's playground area and places of leisure.
The new sports facility building will integrate a public swimming pool on its ground floor and a sports court on the top level.The building is considered as another element of the garden.The green of the garden bends and ascends to the new building Green hydroponic facade, which integrates local species and serves as a bioclimatic filter. Passive architecture,Cross laminated timber structure CLT(100% certified PEFC and FSC), efficient MEP systems and renewable energy(PV panels cover the entire roof deck)
Certified
LEED Platinum
Prizes:
Ciutat de Barcelona Award 2019:
Category winner: Architecture & Urbanism
Premi Ciutat de Barcelona 2019: Arquitectura i Urbanisme

World Architecture Festival WAF 2019:
Winner, Category : Sport-completed buildings

WAF 2019, Best use of certified timber:
Highly Commended

Mapei Awards for sustainable architecture 2019,
Winner. Seville, Spain