| CEM Turó de la Peira |
Client:
Ajuntament de Barcelona
IBE , BIMSA
Nou Barris, Barcelona.
1st Prize competition , 2014
Status: Built , 2016-2018
Area:
4 430 m2 (Building)
+
3 952 m2 (Plaza- new garden)
co-author: A. Noguera
Project collaborators: Manel Fernández: structure
Xavier Saltó-Caba: MEP & sustainability
Anna Zahonero: landscape
Energiehaus & Progetic: energy & sustainability, simulations. Photo credits: Aleix Gonzalez, Javier Fdz.
Located in one of the lowest income neighborhoods of Barcelona, the project is based on peoples needs, urban regeneration and the re-introduction of nature to the interior courtyard, by creating a new garden that contributes to the city environmental quality and serves as a support for biodiversity. The structure of the garden gives consistency to the previous degradated space full of concrete, framed by a heterogeneous urban tissue. A new place of social relation, as a filter of the commercial activity of the surroundings, structured in different zones; spaces for the elderly, children's playground area and places of leisure.
The new sports facility building will integrate a public swimming pool on its ground floor and a basketball court on the top level.The building is considered as another element of the garden.The green of the garden bends and ascends to the new building Green hydroponic facade, which integrates local species. Passive architecture,Cross laminated timber structure CLT, efficient MEP systems and renewable energy to achieve a Nearly zero-energy building NZEB.
Certified LEED Platinum
Prizes:
Ciutat de Barcelona Award 2019:
Category winner: Architecture & Urbanism
Premi Ciutat de Barcelona 2019: Arquitectura i Urbanisme

World Architecture Festival WAF 2019:
Winner, Category : Sport-completed buildings

WAF 2019, bEST USE OF CERTIFIED TIMBER:
Highly Commended

Mapei Awards for sustainable architecture 2019,
Winner. Seville, Spain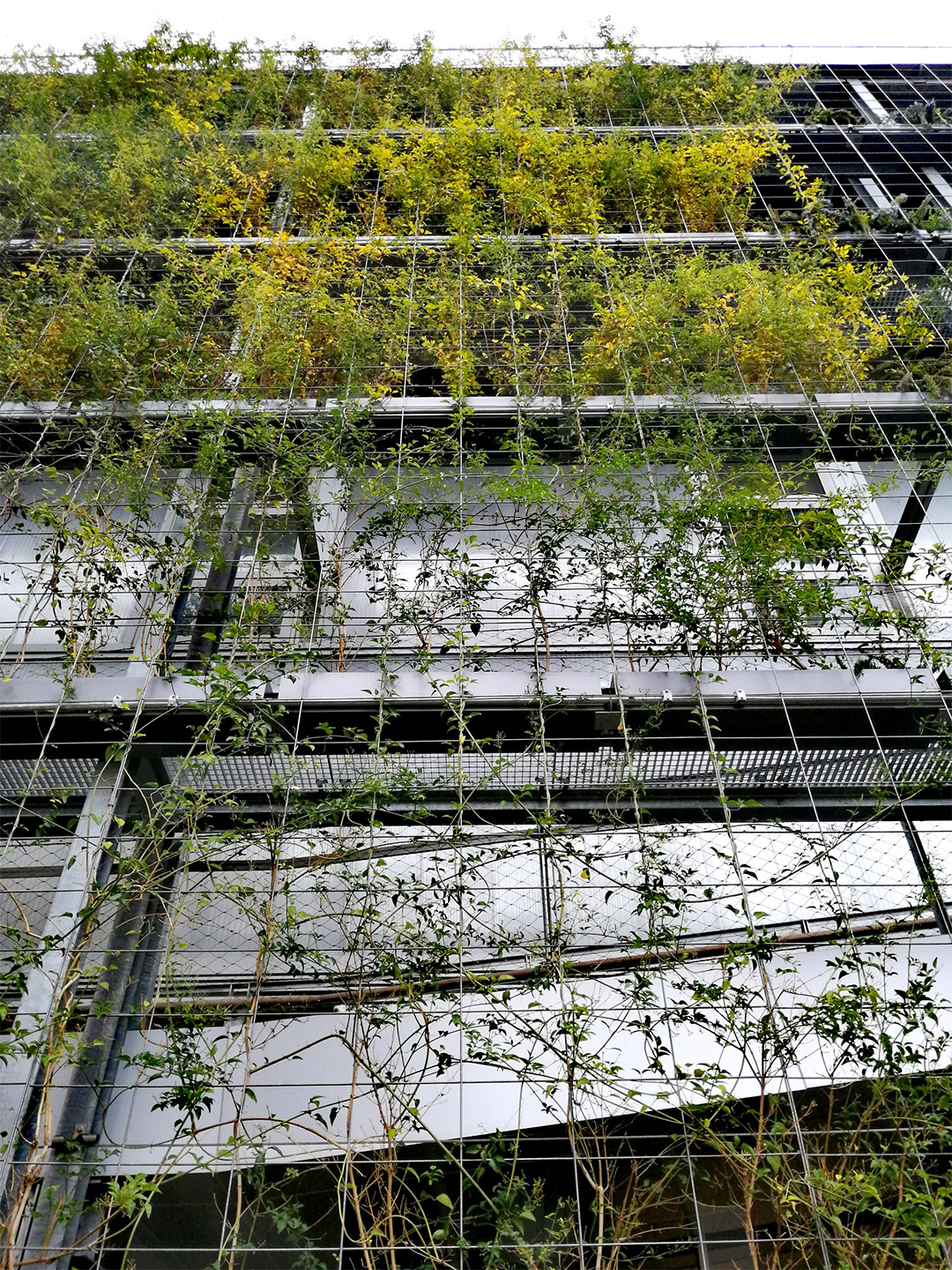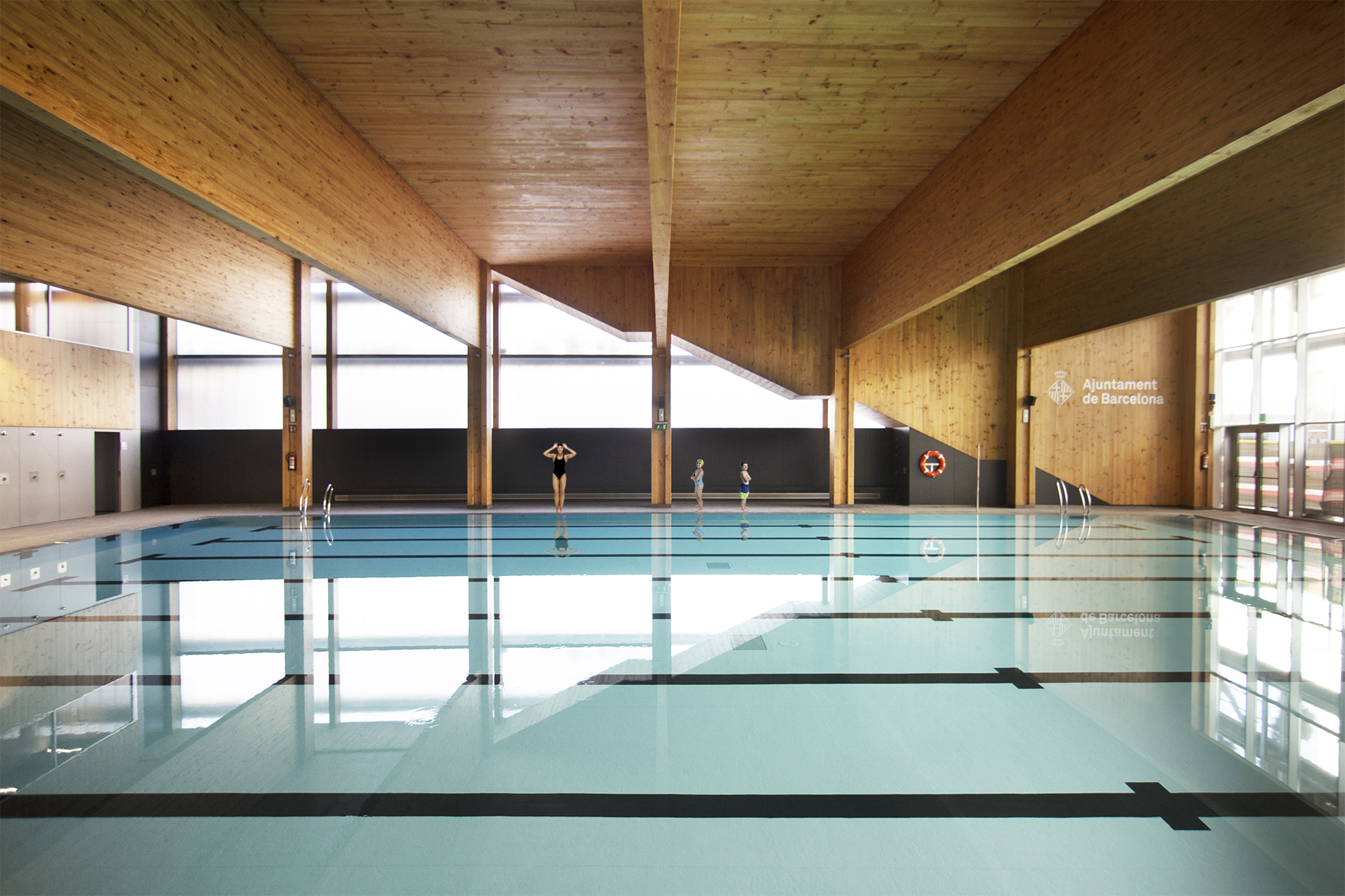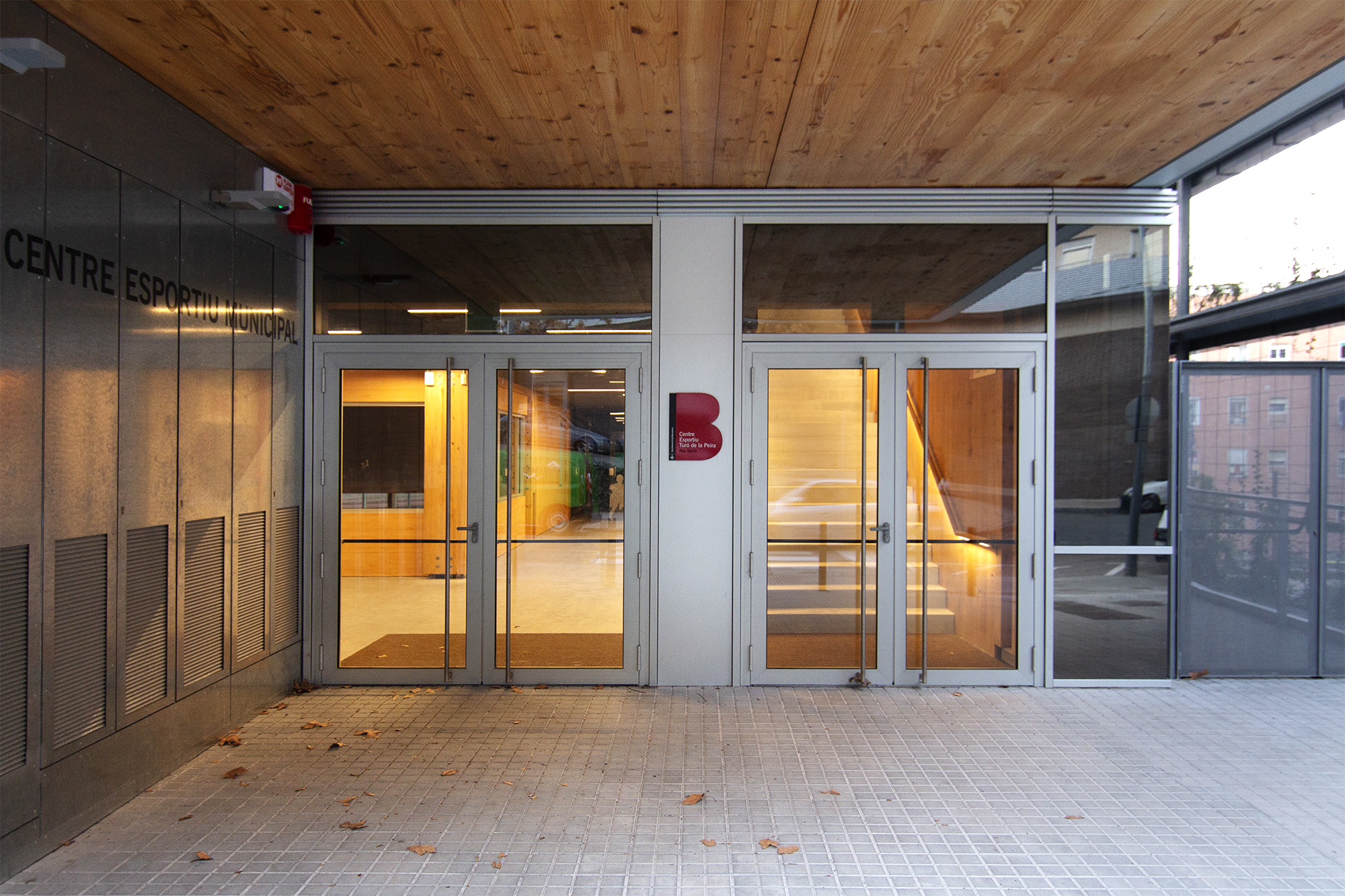 ---
| Casernes sports center |
Sant Andreu, Barcelona Client: BIMSA, Ajuntament de Barcelona
Finalist competition , 2019 co-author: Fco. J. López

The location is the old Casernes (quarters) of Sant Andreu neighborhood.Our proposal aimed at becoming a catalyst for transformation and public activity.The brief established 2 differenciated programs: a new Sports center and a new building for the city Parks authority. The buildings arrangement left the largest possible free space to allow some margin of freedom to study the 5 existing Cedar's new location and create a new open Plaza for citizens enjoyment.
Natural light coming from North, cross ventilation, new Patios , use of Bamboo and other passives and active measures allow us to propose a sustainable and NzEB building


---
| Multifunctional building |
Castro-urdiales, Cantabria Spain
Status: proposal

Project description:
VALUE OF ARCHAEOLOGICAL HERITAGE: The proposal respects this ancient Roman colony on the Cantabrian coast, preserving the existing ruins.

INTEGRATION WITHIN THE URBAN FABRIC
The new building is inserted within the limits of the historical-artistic district.This special urban condition gives it an importance beyond a new object, becoming a new urban catalyst for activities which aims to dialogue in scale, rhythms, volumetry and colors with its neighbors

A NEW MULTIPURPOSE BUILDING LOOKING TOWARDS THE FUTURE
Responding to the current requirements and thinking ahead on potential spatial adaptation.The multipurpose room can be reconfigured according to different needs, changing its stage position or seat number. Universal accessibility.

A BALCONY TO THE CITY
The upper levels of the are set back with respect to the facade alignment of Ardigales street, creating new balconies & terraces with vegetation areas and benches, a new outdoor space for the users of the municipal offices, which at the same time will allow magnificent city views.

AN ECOLOGICAL BUILDING IN TUNE WITH THE ENVIRONMENT
Passive architecture, solid predominance over voids, use of low ecological footprint materials, selective glazing solutions according to orientation, solar protections, solar energy & water management strategies. Integration of active systems of maximum efficiency: LED lighting combined with natural light control, aerothermal energy production.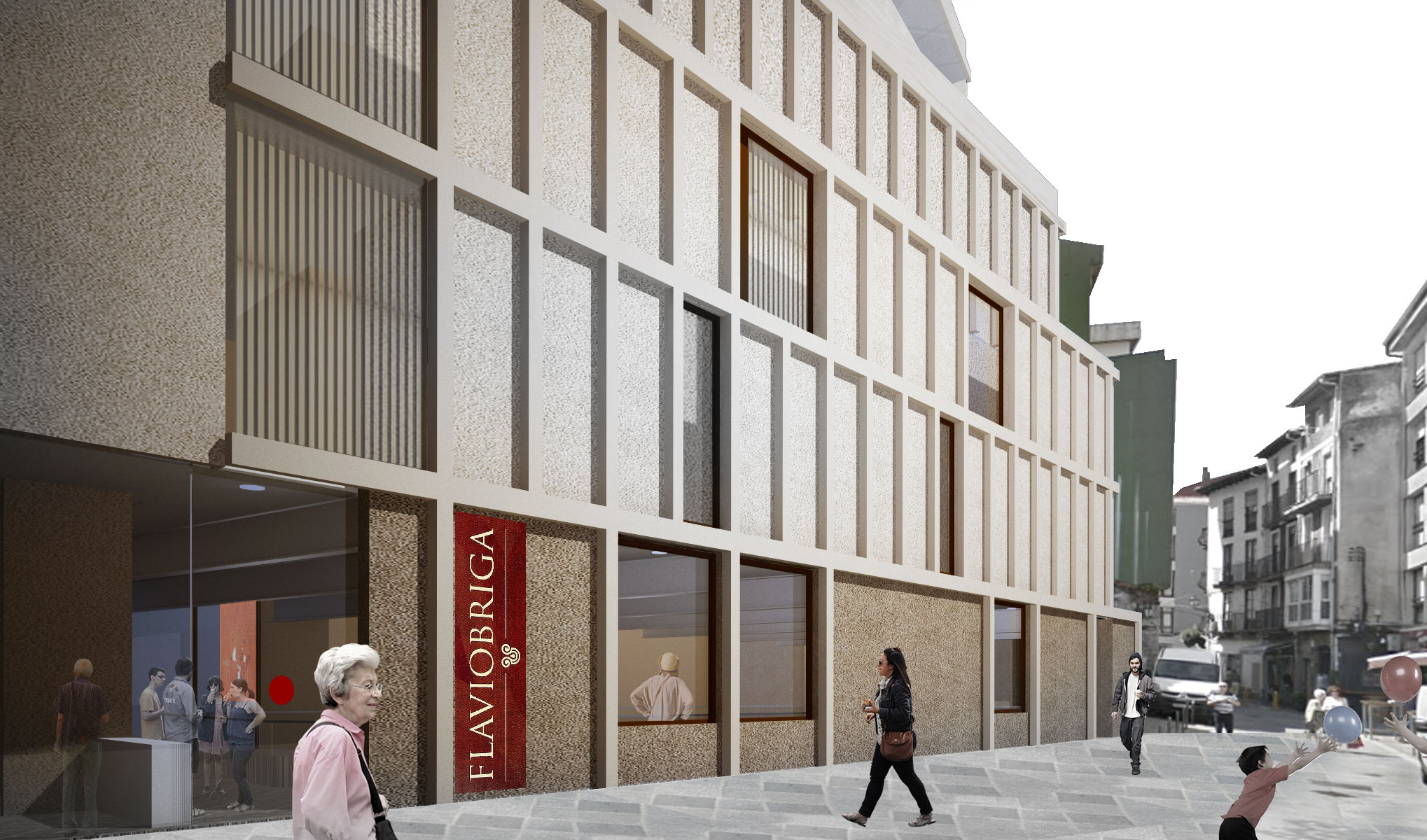 | Soller Square Redevelopment |


Nou Barris, Barcelona
Client: BIMSA, Barcelona City council
2nd Prize, public competition



Revamping existing buildings & landscaping strategies



| 3X1 Museums building |

Yaroslavl, Russia
Client: Yaroslavl City
1st Prize, Spartacus Alive International competition, 2013
The site is within the UNESCO zone in the center of the russian city of Yaroslavl.Our goal was to respect as much as possible the historical layer at a depth near 1 m. Thus, we proposed to transform the existing site(an out of regulation running field to be demolished) into a new cultural HUB which integrates 3 different uses of the existing space. We aimed to take the concept of "Flexible space" to another level, not only by creating a building that could change its interior spatial distribution at any given time, but one that at the same time integrated in its overall design 3 different programs: a container for Culture at the lower level (2 Museums), to become a Summer Memorial site surrounded by nature(in memory of the 2011 accident of the Lokomotiv Yaroslavlv ice hockey team victims)and, during Winter, transform itself into an Ice skating rink for the people, a 3X1