| FustaSolar |
Location: Barcelona and other potential european & world cities.
Project status: TBD
Timber Solar Pergola
Covid has changed the way we see things and use spaces.
FustaSolar
project aims at producing local clean energy while taking advantage of the now unused city rooftops spaces, creating new gathering spaces for the neighbors.
It consist of a prefabricated clean energy timber solar pergola which can be implemented on city buildings rooftops, providing clean energy to the building itself ( communal areas, Parking lightning, Intercom,etc). This will help clean the city air while reducing the neighbors electrical bill. Neighbors will be able to monitor their canopy production at every moment via an App and at a macro-scale city data will be collected in order to have city indicators.
A certified and sustainable timber soft structure will be digitally fabricated (producing no waste, allowing for collaboratinons with entities like Ateneus de fabricació, where citizens can help fabricate their own Pergola solar) and easily assembled and connected on the site.Future alliances with local clean energy companies could be an interesting option to explore.
We propose a "tool-kit" of elements which can be added to the Pergola, in example, planters with cables for growing vegetation/greening the city, LED lightning, shadow side-screens, among others. A modular, adjustable and replicable project for different cities which can help democratize the way electricity is consumed and distributed on our neighborhoods.
COVID-19 has emphasize the need for using our house spaces in a more flexible way. A new modular solar + social pergola which brings together people, re-activating the existing building's rooftop spaces while providing clean energy for the building itself. We are switching toward a new cleaner energy model, why can't we install these light structures on our now empty and unused rooftops?


Fossil fuels haved cause a lot of damage, we need to move towards this new clean energy model for our growing population


We see city rooftops as an unexploited opportunity to become new social gathering spaces and areas to produce our own energy


Greener and active rooftops is a way forward. Image source : Barcelona City council



From an unused and exposed rooftop to a new green and active space



Each rooftop will become a production node on the matrix, giving energy to the communal areas of the building. Savings on electric bill per year. Image source : Barcelona City council



The pergola is modular & flexible enough so people can decide on the number of high-performance photovoltaic panels to be added.





Greening our city: planters with new green will create a healthier atmosphere



The idea is to digitally prefabricate the different timber structure elements which are prepared to be assembled and joined together in an easy manner. The structure will be anchored in different ways according to the rooftop characteristics.All timber used will be ecological (controlled forests) and certified.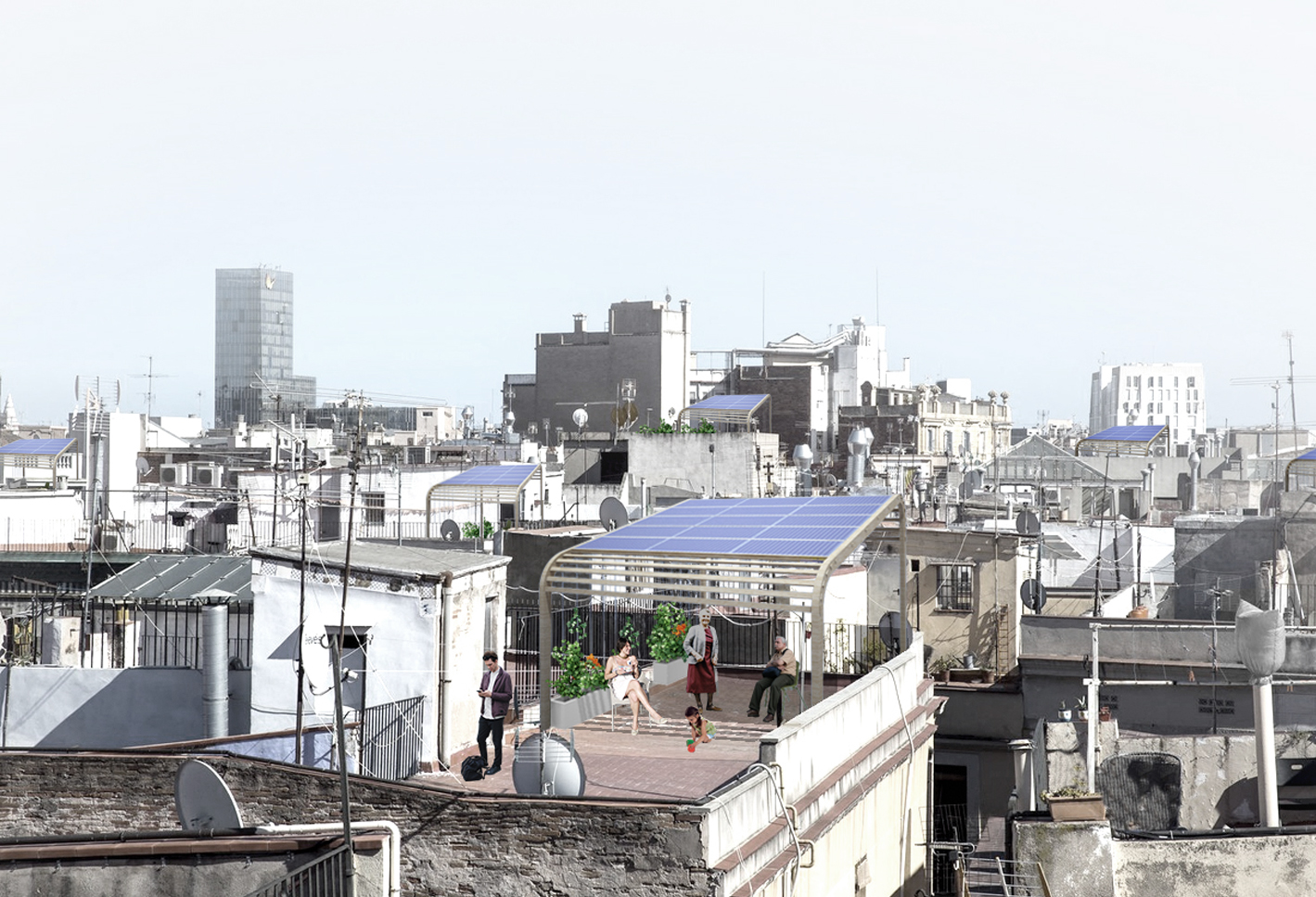 We can become Prosumers instead of consumer, as well as active users of our rooftop spaces.